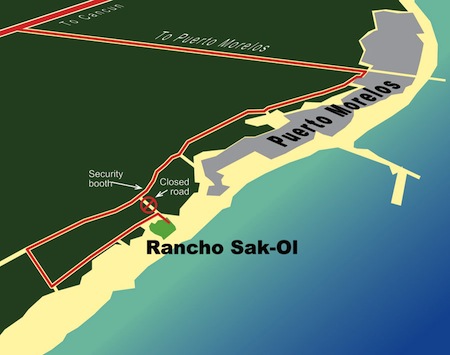 From the airport, you travel south (Right) following signs to "Tulum" on highway # 307 (there's only one road!) Puerto Morelos, a small fishing village, is the first town you will come to, after about 22 km (approximately 12 miles). 
You will see a green Pemex gasoline station on the main highway.  Before getting to the gas station turn left under the bridge and go down the road about 2.3 km (approximately 1.2 miles) to the town. When you get to town, turn right at the first street (if you miss this turn, pass over speed bump, turn right at stop sign, then turn right again at next street by church. The road will be in front of you.). Unfortunately the rainy season can occasionally cause flooding problems in town. In the case the first street or the area behind the church is flooded and the water level is too high to drive safely, we recommend taking this alternate route to the security booth.  Please note this route is properly displayed on the desktop version of the Google Maps website, but may not be properly shown on mobile devices. Please use this image of the alternate route if you are on a mobile device.
Follow the road for about 1.4 km. After going through the security booth, you will turn left at the first dirt road you come to. This road is about 300 meters after the security booth and is the entrance to both Rancho and Caribbean Reef.  Please note, that our location is correct in Google Maps, but the former access road is now closed.  The new access road can be seen from the satellite view. You can follow these Google Maps directions to the exact spot where you will need to turn left onto the new access road. We recommend NOT using other GPS applications as our location may not be accurate and guests have gotten lost using other applications.
If you pass the entrance you will arrive at a large resort down the road called EL CID. This means you have gone too far; so you must turn back, drive slowly, turn around and pass the security booth again.  Then look for the first dirt road on your left.
Once you turn into the entrance and follow the road, you will find Caribbean Reef directly in front.  Turn left and follow the road to the end where you will see a sign for Sak-Ol.  Currently this road is not in very good condition because trucks are using it. After periods of heavy rain, occasionally large puddles of water form along this road. These puddles are not deep and can be passed without a problem.
If you still have problems getting to Rancho go back to the town's main square and ask a Taxi to lead you to Rancho Sak Ol (they are available 24/7). The fare will be on Rancho.